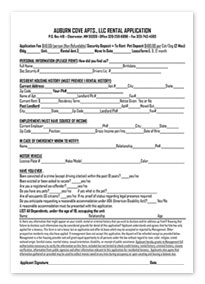 Auburn Cove Apartments
809 Rilla Road
Saint Cloud, MN 56303
Mailing Address:
P.O. Box 418
Clearwater, MN 55320
Phone: (320) 259-6898
Fax: (320)743-4593
Click Here to Download the Application
Application Guidelines:
If you have been referred to our complex by a current resident please list their full name, building and unit they currently live in on the top of the application.
Please fill out FULLY the application and list the building and the unit you are applying for. Please list 1st choice and 2nd choice.
Primary applicants must be 18 years of age.
All applicants must be free from unpaid collections accounts, judgments, liens or unlawful detainers or this application will be denied.
All applicants must have a clean criminal record, no arrests or convictions of a felony or gross-misdemeanor or this application will be denied.
All applicants must have a prior verifiable rental reference. Applicant with any lease violations or late rent payments will be denied.
All applicants must gross 3 times the rental amount asking per month for income.
All applicants must fill out applications that are residing in the unit age of 18.
No animals/pets allowed without management's written consent.
Occupancy ratio 2 adults max per 1bedroom unit, 2 adults 2 children max per 2br unit.
A request for a reasonable accommodation must be presented with this application.
The application process takes 24 – 48 hours from the time of receipt by mail or fax. Please include the $40.00 application fee and the $200.00 holding fee while we process the application. In the event your application does not qualify for the apartment the holding fee will be returned to you.
Questions and concerns must be called into the office at 320-259-6898 ask for Jodi.